Research project InnoBioDiv
Innovation platform for education and research on the effects of climate change on plant growth performance and soil biodiversity
Overview of InnoBioDiv
Research project: InnoBioDiv
Funding reference: 67DAS225A
Duration: 08/01/2021 to 31/12/2023
Funding program: Promotion of measures to adapt to the consequences of climate change
Funding priority: Development of educational modules on climate change and climate adaptation
Effects: Soil, microorganisms, plants, drought stress and heavy rain
Target groups: Universities, researchers, students, municipalities, and society
Faculty: Faculty of Mathematics and Natural Sciences
Institute and working group: Institute for Plant Sciences, AG Bucher
Project partners: Technical University of Cologne ( Institute for Communications Engineering (INT) ) and CEPLAS Cluster of Excellence
Project profile of the TH Köln: Faculty for information, media and electrical engineering, research project InnoBioDiv
Main goals of the InnoBioDiv project
The main objective of the joint project of the University of Cologne (UzK) and the Cologne University of Applied Sciences (THK) is to establish an innovation platform which, using the research results of the of the Cluster of Excellence on Plant Sciences (CEPLAS), the influence of climate parameters on the growth performance of plants and the biodiversity in the soil can be experienced. The development of concepts for adapting crops and ecosystems to climate change, the preservation of habitats, the security of supply for the population and the conservation of resources as well as resource-conserving use of water and nutrients in the cultivation of crops are major priorities. The innovation platform serves to make ecological interrelationships in the rhizosphere tangible, and as a communication platform, collecting concepts and exchanging ideas.
Schematic representation of the InnoBioDiv innovation platform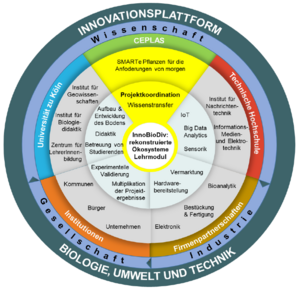 Part of this innovation platform is a flexible experimental platform that enables a realistic simulation of ecosystems for the implementation of explorative teaching and learning modules at the participating universities using the latest technologies in the fields of sensor technology, transmission technology, and signal processing.
Schematic representation of the experimental platform InnoBioDiv
Parallel to the establishment of the innovation platform, practice-oriented training modules for students are being developed and carried out at the UzK and THK, in which students in interdisciplinary groups design their own concepts for researching the climate adaptation of plants and implement them experimentally on the experimental platform. By involving students at an early stage of the project, the development of the innovation platform is to be further optimised by and for this target group.The InnoBioDiv platform serves as a basis for connecting further interdisciplinary as well as intercultural research and teaching projects (see for example Plant-Ukraine).